archive: Sauerbraten - new version released
Posted on Wednesday, June 21 @ 20:01:22 CEST by julian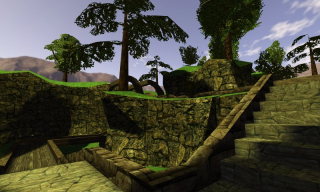 Sauerbraten is changing alot of things. We've all heard of 'in-game editing' but short of the proprietary and expensive Serious Engine, there hasn't been an engine allowing the user to so easily and rapidly switch from play to edit use contexts.

Sauerbraten makes this otherwise rarified technology accessible, for the first time. Furthermore, the engine is completely opensource and portable, now running on the Linux, Windows and Macintosh platforms.

New features in this '2006_06_11' release include full screen shaders, new trigger system, a heightfield mode' for terrains, and improvements to the scripting interface. Cheers Wouter, and thanks yet again to fine folk at Linux Games for the pointer.