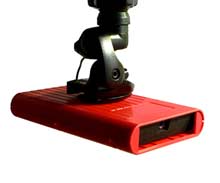 SmartRetina
is a lightfast gesture-tracking platform written in Macromedia Flash 8, utilizing its flash.geom. package, flash.display package, Video class, Camera
class and their motion-tracking capabilities.
SmartRetina is used to develop Retina Based Interfaces – Interfaces which:
1. Purely use visual interaction and can fully function without using text or audio.
2. Strictly serve as translators between human gestures and machine functions.
3. Can be self-explanatory at their introductory level, since representations of the supported gestures can serve as the actual visual interface (a reflexive interface)
4. Can act as self-organizing systems (see Mossalibra for example).