archive: Fijuu
Posted on Saturday, July 10 @ 20:15:41 CEST by julian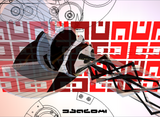 fijuu is a game based audio/visual performance engine by delire+pix. Using a PlayStation2 style controller players deeply manipulate 3D instruments to make improvised music..

This project was built from the excellent opensource engine nebula and is played by two players on the same machine. fijuu has appeared at both sonar and the Neuchatel International Fantastic Film Festival.

Visit the project page and check out this movie (6 minutes, 65MB MPEG1).