archive: Homo Ludens Ludens Follow Up.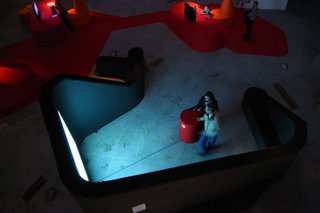 Because I have a piece in Homo Ludens Ludens it's little difficult for me to play journalist. For this reason I'm posting here a bunch of links by others that will give you good coverage of what there. I will take the license to say it's a super show, if not a little gigantic (in typical LABoral fashion). Congrats to Laura, Erich and Daphne on the curatorial front. Given the breadth of the topic it can't have been easy..

WMMNA.
WMMNA2 (Conversation with Daphne)
Neural
Artist Mika Satomi's Flickr Set

There were several works there that I will put into the archives in the coming couple of weeks. In the meantime HLL will be on show until September, so.. why not spend some of your summer holidays in Gijon, swim in the Cantabrian Ocean and catch a killer show of game art while you're at it..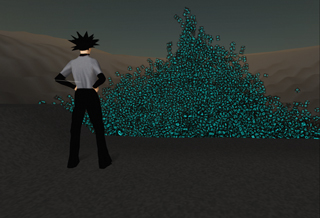 Babelswarm is an inter-disciplinary artwork in Second Life exploring the possibilities of literary, music/sound art and real-time 3-D arts practices within virtual worlds. The installation is launching in sunny Lismore, NSW on April 11th, 2008. I'll be posting a SLurl to our work blog on the day so you can join us in first- or second-person mode.
archive: Gamerz 02 opens in Aix-en-Provence, France.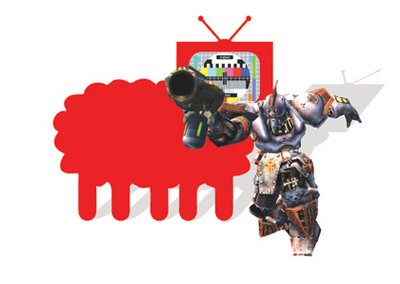 Gamerz 02, an exhibition of game and game-related art, opens today in Aix-en-Provence, Southern France, and will be on show until the 27th.

The show has a lot of new names and some interesting work, from traditional sculpture through to fully fledged art-games.

Artist's featured include: Dardex Mort2faim, Quentin Destieu, Romain Senatore, Sylvain Huguet, Paul Destieu, Benjamin Cadon, Sylvie Reno, Servovalve, Guillaume Stagnaro, Antonin Fourneau, Manuel Braun, Sidabitball, Confipop, Jankenpopp, Damien Aspe, Pierrick Thébault, Pierre Andrieux, Philippe Coudert, Pascal Silondi and Stephane Kyles.

Disclaimer: sadly my French is far too hairy to brave translating the announcement text. My present Spanish company currently feels similarly reluctant. Head over to the site and have a crack at it yourself.

Big thnx to Walter for passing us this link.
archive: Primitive Collections Field


This sounds exciting; Tommy Stockel has a new exhibition opening in Second Life of Land Art works that would be otherwise too difficult to recreate in real life. One of the defining characteristics of Land Art is that it is constrained by the physical characteristics of the geological materials from which it is made, and is vulnerable to change under the influence of natural weather and time, but free from these qualities in VR Stockel is able to output more imaginative sculptures in what is effectively the same medium; in this case Second Life's free-found prims rather than rocks and dirt.

Where land art was also seen originally as a rejection of the gross superficiality and commercialisation of mid twentieth century artistic culture, Stockel has re-imbued his superplastic virtual Primitive Collections Field with textural qualities of real world processed natural fibres like paper and cardboard, drawing in and reappraising the meta-physical, philosophical aspects of Land Art as much as he does the physical. Land Art may claim to be natural, but like paper and cardboard it is still a processing of nature.

The exhibition opens tomorrow on the 20th of December and runs until the 24th of February 2008.

Read more about the work on the press release at

http://docs.google.com/View?docid=ajk882kkkkrd_183ft7ncnfq

And visit the work at Boom Pearls land at
http://slurl.com/secondlife/Phyllira/169/139/90

Boom Pearls is a series of art works curated in the populated 3D world Second Life.
The invited artists get free access to work within the given frame of the project. This means a world where the users can build, write, script and experience themselves through a 3D universe build by the users.

archive: RMIT Games Program Grad Show, Melb.au



RMIT University Games programs graduation exhibition, 1UP, is the first graduate exhibition of the RMIT Games and Digital Art programs.

When: 28th November 2007, at 6:30 p.m - 8:30 p.m
Where: Info Corner, Building 22, Level 1, 330 Swanston Street, Cnr Latrobe Street

RSVP to rmit1up@gmail.com by 26th November.

archive: Zero Gamer at the HTTP Gallery, London.


Starting tomorrow at London's HTTP Gallery is Zero Gamer (GOLD), a follow-up exhibition to their show at the London Games Festival Fringe this year.

From the site:

Zero Gamer looks at games played, unplayed and unplayable, the spectator and the spectacle. Sometimes we just like to watch, and machinima, gameplay videos and spectator gaming events take the activity out of interactivity. Zero Gamer presents games that play themselves, video documents of in-game performance, game engine experiments and challenging documentaries on gameplay.

Zero Gamer will run from the 2nd until the 18th November at the HTTP Gallery.

archive: PlayWare at Laboral, Spain.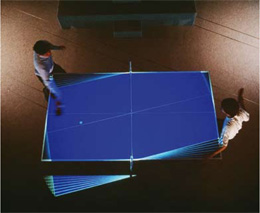 Playware is the second installment in the GameWorld exhibition series at Laboral in Asturias, Spain and is up and running until March 21, 2008.

Contrary to the first GameWorld exhibition - which focussed on strictly artistic explorations of computer games and gaming culture - this "expansion pack" is focussed on games that challenge traditional computer-aided play logics and interfaces

Says the site:

Playware presents the work of artists, designers, and engineers who are probing the limits and expanding the possibilities of digitally-mediated play. The exhibition establishes a continuum between two types of works:

1) 'multiplayer' interactive art installations that explore, often in the form of a game, new methods of playful interaction with digital information

2) 'art game' software made for everyday computers and gaming systems that differ from their more commercial siblings in their use of abstract, whimsical, or surreal animated environments.

Works at Playware include PingPongPlus (above image), Perfect Time, Bump, Linerider, Armadillo Run, flOw and Toribash.

See the project page here.


archive: Eddo Stern Solo Show at Postmasters, New York.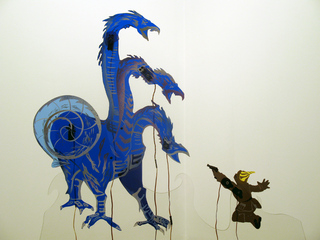 Those of you in New York should check out Eddo's new show at Postmasters Gallery, running until October 13.

Postmaster's writes:

His new works - kinetic shadow sculptures and 3D computer animation videos - use a mash-up of documentary material from online forums, clip art, YouTube videos, midi music, electronics, and hand made puppets. They mine the online gaming world at its paradoxical extremes: on one hand, an untenable perversity of life spent slaying an endless stream of virtual monsters, on the other, an ultimate mirroring of the most familiar social dynamics. The struggles with masculinity, honor, aggression, faith, love and self worth are embroiled with the gameworld's vernacular aesthetics.


Argh, summer-stoned. I was a bit late on the money with this one. Thnx Eddo for sending it through (and see you soon)!


hello: OzCo Second Life Artists Residency Announced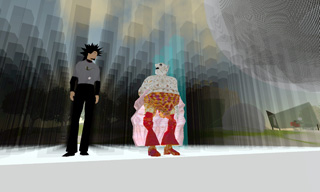 Still pinching myself over this piece of news (hence the time to post). Adam Nash, Justin Clemens and yours truly (Christopher Dodds) just won the inaugural Australia Council Second Life Artists Residency Grant. It's a AUD$20k recognition of virtual worlds as legitimate creative spaces, and I get to buy a new suit (kidding OzCo... kind of). We'll be posting progress reports on the BabelSwarm blog.
archive: IGN asks: Is this the year of the Arthouse Videogame?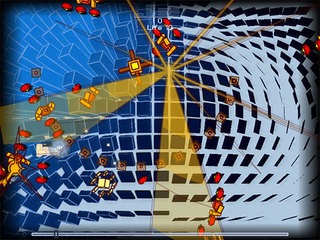 The IGN has some fairly comprehensive coverage of the Indiecade titles that appeared at E3 this year, from Bill Viola to Blast Theory.

Aye, I would've posted this earlier but it seems holidays got the better of me..

archive: Experimental Games feature at E3


Thanks to the pioneering work of Celia Pearce and friends, several experimental games will appear as a part of an IndieCade showcase at E3 this year.


Some of the games featured include EveryDayShooter, And Yet It Moves, and Can You See Me Now. Pix and I were also very lucky to have been invited to put something in the showcase too. Thanks!

This is certainly something of a milestone for experimental/artistic game development, if only to let Goliath know that David exists.. bah, you get the idea ;)

hello: RMIT student project: Terra Transeo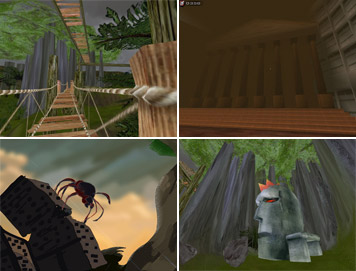 Once a year the students of RMIT's Master of Creative Media degree are thrown a five week, collaborative project to be produced in a real-time multiplayer space. This year's theme was "borders, territories and oppression", with Terra Transeo the outcome.
We ask our players to enter a future where the corporations rule with an iron fist, where humanity is lost and where the natural world is all but forgotten. The purpose of the game, Terra Transeo, is to find a way to save the city that is choked by pollution. In order to do this, one must explore the city, piece together the past and discover a forgotten forest that may hold the secrets to rescuing the world from extinction.
Check out the project web site here, and ongoing production blog here. If you're in town and would like to attend the launch, then rock up to The Order of Melbourne on Swanston Street opposite RMIT on Thursday 17th May. Proceedings kick off at 6:30pm.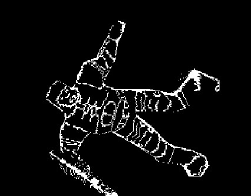 One for the archive; RELOAD was an exhibition of artistic game modding in 1999 at Berlin's shift e.v gallery (which closed it's doors in 2001). A short english description available of the three works describes the show thus:

"Stefan Wieland confronts the visitors with a walkover installation in real space, then, passing by (real) models of game architecture by Astrid Herrman, one gets to the new virtual environments for the computer game "Quake" created by Tom Ehninger, Holger Friese, Christine Meierhofer and NoRoomGallery.
In the exhibition space a setup of 4 computers, connected via local network, allows the audience to experience a walk through those levels created by the artists. Other players can join in via the Internet. On the RELOAD Game server the virtual artworks are ready for download - a maximum of 16 players can log in at the same time, visit and play the Quake levels around the clock."

http://www.shift-ev.de/anfang.html

Backup pdf of the exhibition's main page.
archive: Coverage of Gameworld at Laboral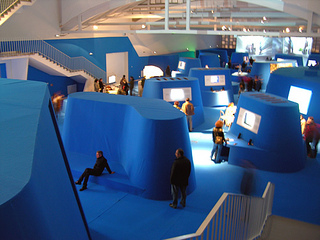 You'd be right to think Gijon, Spain might seem like an unlikely place to host the largest exhibition on the field of artistic games to date. This didn't stop thousands from attending, many who flew in for the show. The great turnout was of course also due to the fact that Gameworld was just one of four concurrent exhibitions inaugurating the opening of the Laboral, the gigantic new Asturian art center (North of Spain).

I arrived on Tuesday after spending a few sleepless nights working on my own piece for the exhibit, a 2 player version of my Second Person Shooter in the form of a QuakeIII mod. I had no idea quite what to expect, though I'd helped out curators Carl Goodman and Daphne Dragona a little with advice on what shape the show should've taken. I walked into an enormous interior partly-clad blue landscape, a lot of hardware, whirring drills and a few dozen people looking quite confused about it all. This is what it looked like less than 36 hours before the opening (thanks to Feizi for the snap).

Cutting to the chase, here's the lineup (taken from Pau's post here):
Read on for more..

archive: Exhibition: Trash This City


I'm really looking forward to playing this!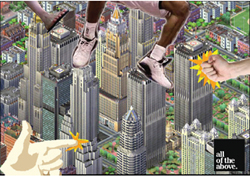 Trash This City opens in Melbourne, Australia on March 30th at All Of The Above gallery. Trash This City is an interactive installation centered around the game Sim City. Trash This City is a unique event allowing participants to literally step into the computer screen and play the game. The game environment of Sim City will be translated into a real life cardboard city that can be manipulated and reconfigured. Visitors/ players will not only be able to move buildings and graffiti the streets, they are given the opportunity to destroy the piece – as possible only in the game.

Trash This City is the first work by Nirmala Shome, recent graduate of
Media Communications at Melbourne University and examines the powerful metaphor the game provides for life, and also the exhilaration involved in destruction.
Trash This City will only be open for one day. The card board model will cover the majority of the gallery floor forcing visitors into unavoidable contact with the game interface.

Visitors will be provided with markers to tag and graffiti the city, and are able to destroy the city at the end of the night. Video footage will also be streamed live from the floor of the model and projected onto the gallery walls.


archive: Eva and Franco Mattes' LOL Exhibition in Italy

EVA AND FRANCO MATTES of 0100101110101101.ORG, after first exhibiting their Second Life virtual portraits within Second Life will now be exhibiting them in Italy with prints for sale.

For over a year Eva and Franco Mattes lived in the virtual world of Second Life, exploring its terrain and interacting with its peculiar inhabitants. The result of this "video game flânerie" is a series of portraits characterized by the bright colors, artificial lighting, polygonal shapes and surreal perspectives typical of virtual worlds.
Overall, the series draws on the technological developments which allow the creation of alternate identities within simulated worlds.

http://www.fabioparisartgallery.com



I'm off to Brussels to give a 40 hour intensive on artistic game development and setup Fijuu2 in the exhibition. As a result you won't be hearing much from me during the week.. I'll give some coverage of the show, and perhaps the workshop, when the the exhibition opens.

If you're in the area, see you at Art+Game!

archive: Virtual Exhibition In Second Life Art Gallery

Italian artists Eva and Franco Mattes (a.k.a. 0100101110101101.ORG) present "13 Most Beautiful Avatars", a Second Life portrait series, at Second Life's Ars Virtua gallery.

"13 Most Beautiful Avatars" is the newest installment of Time Shares, a series of online exhibitions co-presented by the New Museum of Contemporary Art and Rhizome.org, in conjunction with Rhizome's "Tenth Anniversary Festival of Art & Technology". The exhibition, in Second Life's increasingly popular Ars Virtua gallery — a virtual nonprofit arts organization — will mirror the art gallery in which the newest work by Italian artists Eva and Franco Mattes (a.k.a.
0100101110101101.ORG) is being exhibited.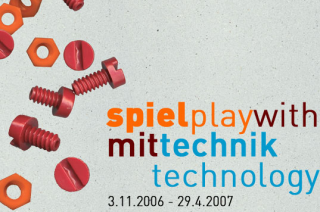 Chris O'Shea wrote to let me know of an interesting event happening here in Berlin: Play With Technology, hosted at the Deutschen Technikmuseum Berlin.

Kathrin Guenter has been kind enough to translate the festival brief into English (TY Katie!):

Game kid

This expression symbolises the common opinion considering playing as pure spare time occupation, hence as children's affairs. The exhibition reveals extensively that the technologized game is a fundamental element of human culture. Games have various social functions and mirror technical developments of each era/epoch.

This exhibition enjoyably traces the reciprocity of games and technology over the last 250 years: from baroque automatons, the mechanized fun fair to industrial technology toys and modern computer games.

Three zones are dedicated to the new intriguing subject of the cultural history of technology.

This looks well worth a visit; it's not often we see a technical history of play with such scope. Here are some snaps of work in the show.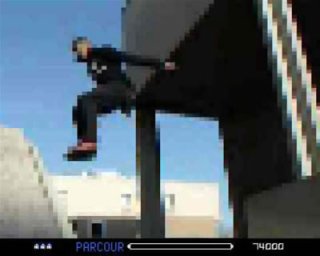 Only now have I found the time to write this wrap up of what was an excellent conference and exhibition in Athens: Gaming Realities, the name given to this year's Mediaterra festival.

The exhibition itself gave a solid representation of the artistic game development scene, and was housed in an old gas-works building, converted some years ago into a venue. The conference programme was full (almost crammed) with back to back papers and presentations, starting at 10am and riding through till the early evening. Read on for coverage of what I thought were the highlights.

archive: Video coverage of Wired NEXTFEST Experimental Games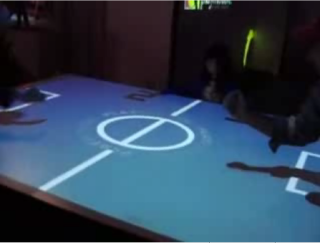 Chad sent through this link to a video put together by Destructoid that covers the games featuring in Wired's NEXTFEST. Some goodness in there - especially great to see TFT Tennis v180 making another appearance this year. TY Chad!

archive: Belated Pong Mythos Coverage at Leipzig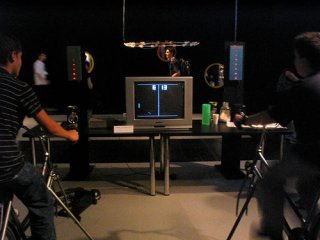 When I wrote about Pong Mythos a week ago, I had no intention of going to the GC to see it, but a brief glance at a map proved that I was close enough to make the jaunt.

The GC itself was a whopper of an event, but mostly in the sense of sheer scale - fairly earning it's reputation as the 'European E3' - with the vital ingredients of shameless product pimping, X-Box 360 giveaways hawked by pop-stars (Arrested Development of all people) and blood-splattered sandbags.

From within an hour of being there it was clear there was far too much hype - to the point of being scary - for these train-weary eyes, so we did away with it and ran straight to Pong Mythos, a show put on by the Computer Spiele Museum here in Berlin. Pong Mythos presented an impressive range of interpretations (even remixes) of Pong, both as a concept and as the atomic root of videogaming itself. Read on for more..




It's not everyday you have Ralph H. Baer, the man responsible for the birth of home videogames, as patron of your artistic game exhibition. Moreso, what better name for a show backed by Baer than Pong Mythos, the artistic games exhibition featuring at the Games Convention (AKA Germany's 'E3', to stretch it a bit).

Artists showing at Pong Mythos include Time's Up, Philip Worthington
(responsible for 'Shadow Monsters' at Cybersonica06), the dark scientists at //////////fur//// and a fantastic new piece called 'Pong Dress' from The Ludic Society.

If you're in the Leipzig area or already at the Games Convention, head off to Pong Mythos and let us know what you think of the show.

hello: Machinima at the Edinburgh International Film Fest


The EIFF wrote to SP to let us know of their strong representation of Machinima in this year's festival. A surprising inclusion in the programme is Ken Perlin, the man behind the CG of Tron and the infamous Perlin Noise. From the press release:

Machinima, the making of short movies using video games, will be taking centre stage at the fourth Edinburgh Interactive Entertainment Festival (EIEF06) in August with three of the movement's biggest names.

'Machinima –the triumph of hybrid authorship' will be an exploration of the new amateur art form that is taking the media world by storm and has seen companies such as MTV and Lionhead embracing its modus operandi.

Pioneers in the field Rooster Teeth Productions will be unveiling an exclusive Scottish themed episode of their long-running series Red vs Blue. Written especially for the festival, the episode will be performed live on 22nd August during the industry conference.

Based in the world of Halo, Red vs Blue is downloaded by over half a million people each week and the conference organisers are giving a local Edinburgh resident the exclusive chance to star in this hugely successful series.

Also participating in the session is industry luminary Ken Perlin, who will be premiering his unique exploration of the inextricable relationship between music and movement for the first time outside of the US.



archive: Breaking And Entering: Art And The Video Game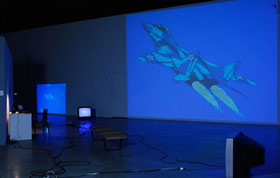 Breaking and Entering: Art and the Video Game was a group show featuring installations by Cory Arcangel, Brody Condon, Jon Haddock, JODI, Paper Rad, RSG and Eddo Stern, held between December 10, 2005 — January 28, 2006 at Pace Gallery Boston, USA. Curated by Patricia Hughes.



hello: Free culture mash-up in SecondLife

Another Creative Commons art project is being run inside SL with the final exhibition taking place (in-game of course) on June 15. More info can be found on the New World Notes blog.
hello: Cybersonica 06: Augmented Audio




I've just returned from the excellent Cybersonica festival in London, a brilliantly curated show of artworks exploring new interactive audio interfaces. Both Chris O'Shea and Lewis Sykes are the brains behind the festival which spans a conference, exhibition at Phonica Records (in Soho) and a few sister shows including the b.TWEEN festival in Bradford. Check out the whole programme here - the show's on until the 26th.

CyberSonica commissioned 5 artists/groups to develop a piece for the show. These works were Herwig Weiser's Death Before Disko, Squidsoup's Freq 2, Troika's Schizoporotica, Someth;ng's Tape and a new version of an older work by Steven Pickles and I called Fijuu2.

Alongside the commissioned pieces are eight existing works, all of which are incredible inventions in themselves. Make sure you play with Jen's loopArena and especially Philip Worthington's Shadow Monsters which is one of the better examples of Augmented Reality I've been bent by in a while.

The lovely Marta has some snaps posted here, but keep an eye on Chris's gallery for updates of the festival day by day.

Congrats Chris and Lewis, yet again proving that the small festivals are where the real action is.

archive: Next Level: Art Games and Reality


Next Level - Art, Games & Reality

is on at the Stedelijk Museum in Amsterdam from 10.03.06 - 18.06.06. It includes

"work by artists and designers who make the vocabulary of games their own, and provide us with their personal reflection on it."

Check out a video on the official website, and an informative review on we-make-money-not-art.


Thursday, May 11
·
Game On
Tuesday, May 09
·
Games Exhibition
Wednesday, March 22
·
Trigger Happy
Thursday, February 16
·
q3apd at Lovebytes
Wednesday, November 16
·
Public Furniture for Play
Tuesday, November 01
·
SecondLife Film Festival
Wednesday, September 14
·
i am 8-bit
Thursday, August 25
·
Fake Screenshot Competition
Saturday, July 16
·
Digital Disobedients: War Games
Saturday, May 21
·
Digital Play: Reloaded
·
re:play
Wednesday, March 30
·
IAM8-BIT
Tuesday, March 22
·
Games Lab at ACMI
Wednesday, February 02
·
Transmediale
Tuesday, November 09
·
Video Games With An Agenda
Tuesday, October 12
·
ALT-CTRL
Monday, October 11
·
The Other Me
Monday, September 27
·
Workin' it at the Tokyo Game Show
Wednesday, September 22
·
The Tokyo Game Show
·
Looking Back - 'Game Show'
Tuesday, September 21
·
SHIFT-CTRL
Sunday, September 19
·
ALT+CTRL
Saturday, September 18
·
Fictional Worlds, Virtual Experiences: Storytelling and Computer Games
·
Trigger: Game Art
·
Into The Pixel
Saturday, August 07
·
archive.org hosting game videos
·
1999 Cracking The Maze - Game Plug-ins and Patches as Hacker Art
Friday, August 06
·
Six answers to the question 'are games art?'
Tuesday, July 06
·
Bang The Machine: Computer Gaming Art and Artifacts