archive: Mellifera wins $30k OzCo MMUVE IT! grant
Posted on Monday, July 07 @ 08:24:04 CEST by christo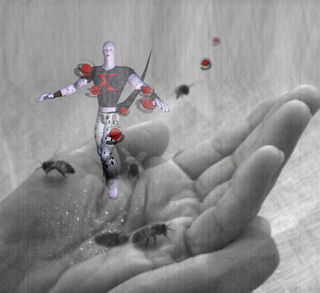 Andrew Burrell and Trish Adams are winners of the Australia Council's latest virtual worlds arts initiative – MMUVE IT! Their Mellifera project is "an inter-disciplinary artwork exploring cognitive processes and bodily interaction and its relationship to virtual environments". Burrell and Adams will co-develop a neuro-interface to enable inter-world interactions through sensor-based inputs such as gesture, breath, heartbeats, electrical brain and nervous system activity.
Their progress can be followed via the Mellifera project site, and an OzCo announcement can be found here.