hello: Neural #30: 'Dangerous Games' now available.
Posted on Thursday, July 03 @ 16:02:33 CEST by julian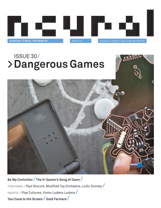 Sporting a brand new design, the new printed Neural issue #30, Dangerous Games is available.

The issue includes a Ludic Society/Margarete Jahrmann interview, Homo Ludens Ludens exhibition report, Play Cultures, the world of digital games report, an article on games of control and human avatars (by moi), news about Emotoscope, Modi 2.0, Rom Check Fail, Amalgus Cycle Process1, HAI and a swathe of awesome reviews.

It's a super mag so I'll give it a shameless plug: you can subscribe to Neural here or find it at a local bookstore.