archive: Gamerz 02 opens in Aix-en-Provence, France.
Posted on Tuesday, January 15 @ 17:28:14 CET by julian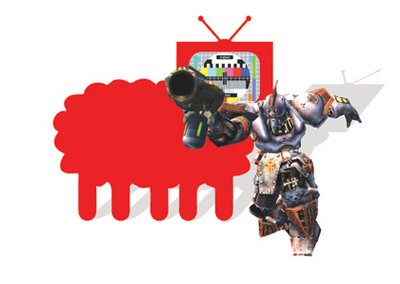 Gamerz 02, an exhibition of game and game-related art, opens today in Aix-en-Provence, Southern France, and will be on show until the 27th.

The show has a lot of new names and some interesting work, from traditional sculpture through to fully fledged art-games.

Artist's featured include: Dardex Mort2faim, Quentin Destieu, Romain Senatore, Sylvain Huguet, Paul Destieu, Benjamin Cadon, Sylvie Reno, Servovalve, Guillaume Stagnaro, Antonin Fourneau, Manuel Braun, Sidabitball, Confipop, Jankenpopp, Damien Aspe, Pierrick Thébault, Pierre Andrieux, Philippe Coudert, Pascal Silondi and Stephane Kyles.

Disclaimer: sadly my French is far too hairy to brave translating the announcement text. My present Spanish company currently feels similarly reluctant. Head over to the site and have a crack at it yourself.

Big thnx to Walter for passing us this link.