archive: Escape From Woomera archived..
Posted on Friday, September 28 @ 10:55:22 CEST by julian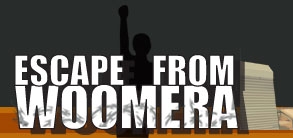 Escape From Woomera is now archived here at Select Parks, it's final resting place on the internet after being shuffled around by ISPs and falling victim to some pretty sneaky domain hijacking.

This of course means that the .com and .org links for EFW kindly placed in books and essays around the globe will no longer work. From here on, use:

http://selectparks.net/archive/escapefromwoomera

Big thanks to Kipper for grabbing the site tree and passing it on to us here at SP for archiving.