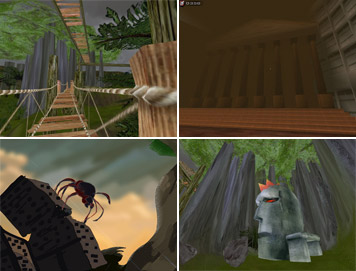 Once a year the students of RMIT's Master of Creative Media degree are thrown a five week, collaborative project to be produced in a real-time multiplayer space. This year's theme was "borders, territories and oppression", with Terra Transeo the outcome.
We ask our players to enter a future where the corporations rule with an iron fist, where humanity is lost and where the natural world is all but forgotten. The purpose of the game, Terra Transeo, is to find a way to save the city that is choked by pollution. In order to do this, one must explore the city, piece together the past and discover a forgotten forest that may hold the secrets to rescuing the world from extinction.
Check out the project web site here, and ongoing production blog here. If you're in town and would like to attend the launch, then rock up to The Order of Melbourne on Swanston Street opposite RMIT on Thursday 17th May. Proceedings kick off at 6:30pm.