archive: DIY FPS Shooter Glasses. Just Lay it on.
Posted on Monday, November 20 @ 23:04:06 CET by julian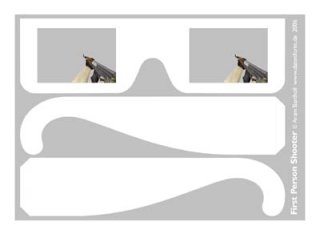 This is clearly one of the finer augmentations I've yet seen. Lift the H.U.D, or even just the 2D dimensional pointer to a body already found in Counter Strike (and so many other shooters) and strap it to your eyeballs, D.I.Y style. That's good gear. A giggle, but a thoughtful one nonetheless.

In fact, our tests, done at the Select Parks Laboratory for Really Real Experiences found that the Bartholl Glasses were lighter on the nose and had a clearer image than the Zion2000 MegaPlex T-Series headset.

Speaking of fine things, this was brought to you by the Queen of Linkage. First contact at Eyebeam. Tentatively plonked in the ARG's category.