archive: Playing With Technology
Posted on Wednesday, November 08 @ 23:58:20 CET by julian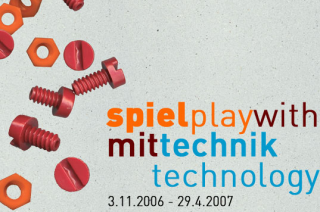 Chris O'Shea wrote to let me know of an interesting event happening here in Berlin: Play With Technology, hosted at the Deutschen Technikmuseum Berlin.

Kathrin Guenter has been kind enough to translate the festival brief into English (TY Katie!):

Game kid

This expression symbolises the common opinion considering playing as pure spare time occupation, hence as children's affairs. The exhibition reveals extensively that the technologized game is a fundamental element of human culture. Games have various social functions and mirror technical developments of each era/epoch.

This exhibition enjoyably traces the reciprocity of games and technology over the last 250 years: from baroque automatons, the mechanized fun fair to industrial technology toys and modern computer games.

Three zones are dedicated to the new intriguing subject of the cultural history of technology.

This looks well worth a visit; it's not often we see a technical history of play with such scope. Here are some snaps of work in the show.