archive: Marios Furniture2. In-scene gaming.
Posted on Tuesday, October 31 @ 22:30:37 CET by julian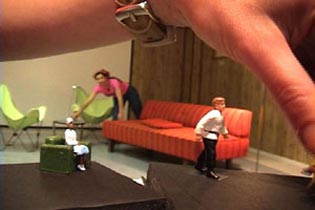 The 2002 piece 'Mario Furniture began as as a video piece and later became a performance. Four years later creators Hillary Mushkin and S.E. Barnet bring us 'Marios Furniture2' where players in must move game objects of varying scale around in a physical environment in order to complete sense of unified scale as captured and represented to the players with live video. This is an interesting inversion of the player/avatar relationship predominant in videogames; here the player is part of the scene they are playing, though still interfacing with that scene via a screen. Good stuff.

From the site:

Mario's Furniture is an interactive video installation that is played, recorded and exhibited in the gaming space. Videogame play happens in a hybrid space of both the physical and videographed world, thereby confusing notions of both real and virtual as well as viewership and interaction. In the game, players move objects of conflicting human and miniature scales, within the camera's frame, while racing against the camera's ceaseless rotation. The players rush to complete the appearance of unified scale within the gaming space. Here, time and space become mutable in correlation to virtual gaming apparatuses. Within Mario's Furniture a new kind of play emerges, one that is heightened and accelerated, allowing infinite malleability of space and time.

It looks like there's a chance to play this piece if you're in the Los Angeles area between now and December the 3rd. Thnx Regine!