theory: Anat's Filter Magazine Features Australian Game Art
Posted on Tuesday, July 25 @ 10:28:41 CEST by rebecca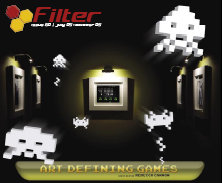 'Art Defining Games' was the topic for Filter magazine Issue 60 by the Australian Network for Art and Technology. Guest edited by Selectparks' Rebecca Cannon, this issue includes a feature on Australian female game modder and designer Anita Johnston, an interview with Troy Innocent, and a discussion about whether games can fulfil the role of documentary.

The pdf is now available online.