archive: dead-in-iraq
Posted on Thursday, May 04 @ 05:37:24 CEST by christo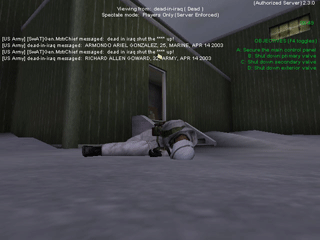 Dead-in-iraq, by artist Joseph DeLappe, is a performance piece conducted inside the US Army recrutment game, America's Army.
I enter the game using as my login name, "dead-in-iraq" and proceed to type the names using the game's text messaging system. As is my usual practice when creating such an intervention, I am a neutral visitor as I do not particate in the proscribed mayhem. Rather, I stand in position and type until I am killed. Upon being re-incarnated I continue to type.