archive: xBlocks: A Game for a Flat Earth
Posted on Monday, April 17 @ 12:06:04 CEST by julian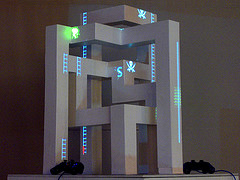 This one nearly slipped through our nets; thankfully Regine was there to scoop it up at Salone del Mobile 2006 in Milan.

xBlocks underscores an ironic predicament posed by the computational simulation of material space, that '3D' and '3Dness' have gradually become qualities only known to occur on flat screens.

xBlocks has taken '3D' from the clutches of hungry LCD's and given a little back to good old causal reality. Perhaps Mahjong is then also a '3D game'..

They say:

xBlocks is a convergence between video games & sculpture — liberating play from the screen. It is a mixed reality installation inspired by traditional platform games of the late 1980s such as Super Mario Brothers or Pitfall. Using standard game controllers, two opposing players must help their characters navigate in and around a three dimensional maze. The real challenge comes, not from traditional game mechanics but rather from moving with your character as he sprints around corners and jumps between the installation's two play surfaces.

Nice work, I've plonked it in the archives.