archive: Gimp Goodness.
Posted on Friday, November 18 @ 22:05:58 CET by julian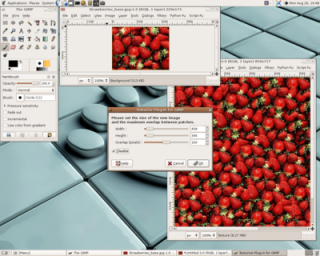 The Gimp Texturizer makes a welcome addition to the free-software game developer's inventory. This excellent little Gimp plugin will take any image and make it seamlessly tileable. I tried with several complex textures, it was so easy it was almost boring, and the results were great.

Gimp is already a highly capable Photoshop replacement for the texture editor, but one area lacking has been in the area of 3D painting. The folk from the Verse project provide an interface between Gimp and Blender for exactly this purpose; ala Deep 3d, this equates to the full extents of The Gimp available to you in Blender while texture painting right onto the mesh.

Thx to the lovely Petite for pointing me to the plugin (damn alliteration)..