tech: Fluxus, 0.6b1 release
Posted on Thursday, February 24 @ 18:57:52 CET by julian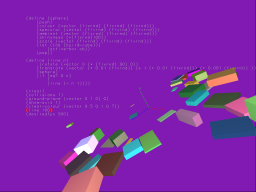 Fluxus is a relatively new project from Dave Griffiths (of pawfal.org fame). This highly dynamic environment provides the user with a 'live-coding' context for generating and manipulating a 3D (OpenGL) scenegraph using the language 'Scheme'.


While this is obviously very attractive to VJ's and visual artists generally, it also has applications for game-artists interested in exploring the popular collision library ODE (Open Dynamics Engine), or iterative/generative approaches to deriving scene content and animations. Dave ships a racing-game demo with this distribution of Fluxus as an example.

In just a few lines the user can spawn primitives and have them collide, updating conditions for this activity live. The current version of Fluxus places the console/editor over the scene itself in the same window; no compiling or window management required while developing your project.

The most recent version of Fluxus runs in Linux.