tech: Books: Artificial Intelligence for Computer Games
Posted on Wednesday, January 26 @ 21:59:25 CET by julian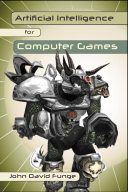 Bots dancing with the wall? Waypoints getting you down? If so this is one for the wishlist. The author John Funge comes from a healthy intersection of academic and commercial experience in the area of AI, having worked for both Sony Entertainment and Intel. What I'd be interested to see is more in the way of non-combatant NPC behaviour, like the kind of player-bot relationships we saw in Ico or in Black and White. Given Funge's interest in machine learning, perhaps we'll see some of this in his book.

For the eager (according to a Slashdot review) source code for examples in the book should be up online at the project's homepage soon..