tech: Books: Artificial Intelligence for Computer Games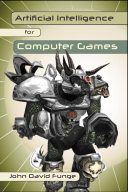 Bots dancing with the wall? Waypoints getting you down? If so this is one for the wishlist. The author John Funge comes from a healthy intersection of academic and commercial experience in the area of AI, having worked for both Sony Entertainment and Intel. What I'd be interested to see is more in the way of non-combatant NPC behaviour, like the kind of player-bot relationships we saw in Ico or in Black and White. Given Funge's interest in machine learning, perhaps we'll see some of this in his book.

For the eager (according to a Slashdot review) source code for examples in the book should be up online at the project's homepage soon..
tech: Books - Gaming Hacks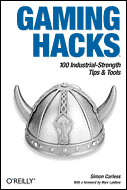 Not that we've read it ourselves, but it sure is in the cart. Coming soon from O'Reilly, this book includes both hardware and software h4ck5 for consoles, MMO and FPS games.
Said Simon:
It doesn't take long for an avid--or just wickedly clever--gamer to chaff at the limitations of videogame software or hardware. If you want to go far beyond the obvious--whether you want to modify your console controller to work on other consoles, create your own text adventure, or modify your Game Boy--there's an awful lot of fun you can have for cheap or free, using the creative exploits of the gaming gurus. Gaming Hacks is the indispensable guide to cool things gamers can do to create, modify, and hack videogame hardware and software.

Thanks chad!.

There isn't content right now for this block.