hello: Invitation to register for Urban Play Space Seminar, Melb.au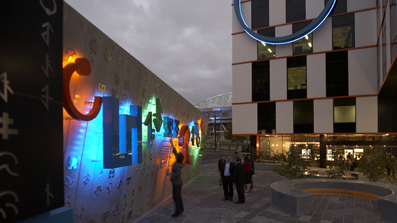 FIELD OF PLAY ::: gameplay in urban art

Digital Harbour will host a seminar on the intersection between
location based gaming and public art to coincide with the launch of Field of Play, a new public art project by Troy Innocent.

The line between the virtual and the real is no longer clear. We now live in a mixed reality of ubiquitous media that is embedded in the world around us. This is reflected in recent developments in gaming that situate play within urban spaces using mobile phones or take a crossmedia approach that blends online, public and mobile spaces.

Join us for a discussion on gaming in public space. Speakers include: Troy Innocent, Monash University; Darren Tofts, Swinburne University; Helen Stuckey, ACMI and Rebecca Cannon, Select Parks.

Tuesday April 17th ::: 6-8pm
Digital Harbour: The Innovation Building, 1010 Latrobe Street,
Docklands, Melbourne, Australia
Please register before Friday 13th April.

digitalharbour.com.au | fieldofplay.net
theory: Women in Games 2007 Conference


The programme for the forthcoming Women In Games conference (Newport, UK) has been announced. This year's focus is on aesthetics in play. Keynotes are Sharon Knight - Vice President and General Manager Europe Online Electronic Arts; Alice Taylor - Vice President, Digital Content BBC World Wide Americas, Los Angeles; Dr. Mary Flanagan - Associate Professor and Director of the Tiltfactor lab researching innovative educational uses of games; and Raina Lee - Publisher and editor of 1-Up MegaZine. Stellar lineup!

19th - 21st April 2007.

http://www.womeningames.com
theory: ACMI Machinima Film Festival, Melbourne, Australia


Saturday 24 - Sunday 25 February, ACMI Cinemas

Watch, discuss and meet award-winning creators of some of the latest and best machinima from around the world, when ACMI presents highlights from the 2006 international Machinima Film Festival (New York) on 24-25 February.

Returning to ACMI for its second year, the Machinima Film Festival will also give fans opportunities to meet numerous local and international Machinima-makers including Eddo Stern (Landlord Vigilante, Darkgame), Jessica Hutchins (Landlord Vigilante), Gus Sorola (Red Vs Blue) Jacqui Turnure (Stolen Life), Peter Rasmussen (Stolen Life), Freidrich Kirschner (Austria) who will be attending the festival to talk about their work and conduct workshops. ACMI is also pleased to welcome Machinima Film Festival director and Executive Director of the Machinima Academy of Arts & Sciences, Paul Marino, who will present a full day showcase from the international Machinima Film Festival (New York).

Further information & bookings: www.acmi.net.au

hello: Medi@terra 06: 'Gaming Realities'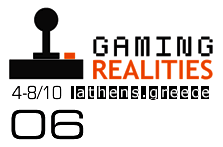 In less than a month Gaming Realities, one of the biggest festivals to date encompassing the critical exploration of videogames in the fine arts and humanties, kicks off in Athens. The festival hosts a great line up of artists and speakers, many of which we've covered or archived here at Selectparks over the years (Blast Theory, Sir Frasca, Darwinia, Eastwood Group, Molleindustria and many more). I'll be there, so if you're at the festival come to my keynote and ask some impossibly difficult questions when I least expect it. Cheers!

Read on for the comprehensive press release and exhbition details.

hello: ACMI machinima festival reminder

A reminder to the animators, machinima buffs and new media theorists among us: the Australian Centre for Moving Image (ACMI) is hosting their machinima-fest this weekend.
Red vs. Blue Series 3
Following last year's sell-out screenings of the phenomenon that is Red vs. Blue, ACMI screens Season 3.

Machinima 101
Sample the delights of the Machinima Film Festival in this selection of the year's very best.

Machinima Film Festival Showcase
Join Paul Marino, director of the Machinima Film Festival, as he presents screenings of current award-winning work, a master class and panel discussions which examine Machinima's wider cultural, and aesthetic ramifications.
I'll be chairing the discussion panel on Sunday, so drop in and say hi... or just sit up the back and heckle.


ACMI's BiMonthly Game Loading forum will explore the theme of Game Deconstruction on 27 April 2006. Game Loading provides accessible information from industry professionals, critics and researchers. It is primarily attended by secondary and tertiary students, but all are welcome. More information here.
theory: Massive - Research Summit




MASSIVE will engage 25 speakers and approximately 80 registrants from industry and academia in a dialog about the future design, technical and cultural challenges presented by massively multiplayer games, current and future research agendas from both industry and academia, and case studies and future models for industry academia collaboration. Keynote by Raph Koster. Associated events the following day include a presentation on Corporate Opportunities for Multiplayer Games and a talk by Les Gasser on the Ecologies of Games


theory: BREAKING THE GAME - ONLINE SYMPOSIUM


From March 15 - 25, 2006 Workspace Unlimited presents Breaking the Game Symposium, a first-iteration online event that brings together competing theorists and practitioners to debate and reflect on virtual worlds, computer gaming, immersive technologies, and new possibilities for artistic practice and experience. The symposium will open up the art of game modification to the contingencies of everyday life, where interactive technologies increasingly mediate physical spaces and human movements in very complex and dynamic ways. The symposium themes are: Hybridity, Overclocking the City and The Virtual as Interface to Self and Society.

Participants will consider gaming and other virtual technologies in relationship to building and designing cities, navigating and experiencing urban life, constructing identities, and creating and maintaining social interaction. The symposium encourages debate and discussion through multiple formats including text, video interviews, phone blogging, images, animation, and virtual walkthroughs.

For detailed information about the symposium please visit the Breaking the game website at: www.workspace-unlimited.org/breakingthegame
theory: Accelerating Change 2004 - Physical Space, Virtual Space and Interface


In 2004 the Accelerating Change conference addressed technological advances in physical space, virtual space and interface. A selection of interesting presentations are now available as audio streams or mp3 downloads from the website, including Will Wright on sculpting possibility space; Keith Halper's observations on reality games - the next revolution; Richard Marks' discussion of user interfaces in interactive entertainment; and a couple of presentations on virtual economies.

http://www.itconversations.com/series/achange2004.html

theory: Mindplay - digital media theory, culture, practice and play


MindPlay will focus on our experience of both mindful and playful human-digital relationships, and explore our interaction and engagement with new digital media environments including those involving mobile and ubiquitous media, new cinema, gameplay, wired spaces, and networked communities.

Friday January 20th 2006
theory: FuturePlay Conference Papers


FuturePlay have their academic papers available for download. Conference starts October 13th @ Michigan State Uni.