theory: Konstperspektiv Game Art Article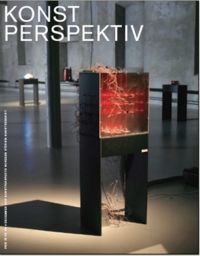 The December 2007 issue of Swedish-language art magazine Konstperspektiv has a feature article on Game Art by editor Mathias Jansson. The article also has a webpage with links to examples of Game Art and an interactive essay about Game Art. Most of the information is in Swedish, but Mathias writes to let us know the links and examples could be of use to others. I look forward to checking out some new artists listed there to start with.

http://www.konstperspektiv.nu/gameart/
archive: Videogames and Art, the book.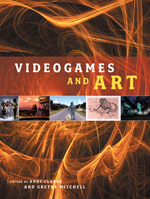 Great news, the long awaited Videogames and Art is finally out on the shelves, all 272 pages of it. Here's the blurb:

From Madden NFL 2007 to Grand Theft Auto: Vice City, videogames are firmly enmeshed in modern culture. Acknowledging the increasing cultural impact of this rapidly changing industry, Videogames and Art is one of the first books devoted to the study of videogame art, featuring in-depth essays that offer an unparalleled overview of the field.

The distinguished contributors range broadly over this vast intellectual terrain, positioning videogame art as a crucial interdisciplinary mix of digital technologies and the traditions of pictorial art. They examine machinima and game console artwork, politically oriented videogame art, and the production of digital art; they also interview prominent videogame artists about their work. Rounding out Videogames and Art is a critique of the commercial videogame industry comprising several critical essays on the current quality and originality of videogames.

An essential volume for our digital age, Videogames and Art will be a fascinating read for players, fans, skeptics, and scholars alike.

Read on here for the bookstores stocking it. I believe it's possible to pre-order on Amazon also.

Big congrats to Grethe Mitchell, Andy Clarke and all the contributors. The contents look nothing short of impressive. There's even a bit from Rebecca and I in there too.

Read on for a glimpse.

As chair of the International Game Developers Association's Sex Special Interest Group, and with an impressive 21 published products under her belt including Playboy: The Mansion, Brenda Brathwaite brings a respectable package of experience to her latest book Sex In Games Video Games. This hard copy text book is an essential reference for any game makers considering the sex games market, and any teachers or researchers exploring the interrelationship between sex and games. Sex In Video Games provides a well-informed introduction to all aspects of this complex and challenging thematic unity.

Of most use to developers are the areas of the book strategising regulation, with Positive Inclusion and Self Regulation offered as solutions to the child's media / adult's content debate.

Teachers will also find an abundance of reference material with the collections of research results Brathwaite has made available for further discussion (for example a collection of interviews exploring culturally differing attitudes towards sex in games).

For academic researchers already exploring the area of sex in video games, the conceptual weight of the book may seem too light, however the abundance of interviews and other raw research materials make Brathwaite's Sex In Video Games an invaluable reference material.

http://www.charlesriver.com/Books/BookDetail.aspx?productID=124865

GameScenes: Art in the Age of Videogames


FOR IMMEDIATE RELEASE
*GAMESCENES: THE BOOK*
M. Bittanti, D. Quaranta (editors), GameScenes. Art in the Age of Videogames, Milan, Johan & Levi 2006. Hardcover, 454 pages, 25 x 25 cm, 200+ hi-res illustrations, available from October 2006.
GameScenes. Art in the Age of Videogames is the first volume entirely dedicated to Game Art. Edited by Matteo Bittanti and Domenico Quaranta, GameScenes provides a detailed overview of the emerging field of Game Art, examining the complex interaction and intersection of art and videogames.
Video and computer game technologies have opened up new possibilities for artistic creation, distribution, and appreciation. In addition to projects that might conventionally be described as Internet Art, Digital Art or New Media Art, there is now a wide spectrum of work by practitioners that crosses the boundaries between various disciplines and practices. The common denominator is that all these practitioners use digital games as their tools or source of inspiration to make art.
They are called Game Artists.

Read on for more information..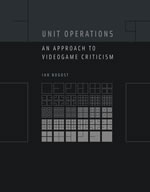 Ian Bogost's Unit Operations is now available from MIT Press.

In Unit Operations, Ian Bogost argues that similar principles underlie both literary theory and computation, proposing a literary-technical theory that can be used to analyze particular videogames. Moreover, this approach can be applied beyond videogames: Bogost suggests that any medium--from videogames to poetry, literature, cinema, or art--can be read as a configurative system of discrete, interlocking units of meaning, and he illustrates this method of analysis with examples from all these fields. The marriage of literary theory and information technology, he argues, will help humanists take technology more seriously and hep technologists better understand software and videogames as cultural artifacts. This approach is especially useful for the comparative analysis of digital and nondigital artifacts and allows scholars from other fields who are interested in studying videogames to avoid the esoteric isolation of "game studies."

http://mitpress.mit.edu/catalog/item/default.asp?ttype=2&tid=10917


Title: Rules of Play, Game Design Fundamentals
Authors: Katie Salen and Eric Zimmerman
Year: 2003
Publisher: MIT Press

Rules of Play is a 670 page, hardcopy text-book which succinctly introduces and analyzes the formal structures of games. Rules of Play covers both the physical and experiential elements of game play, and extends to a discussion about the wider cultural significance of games. Where painters learn colour theory, game designers learn the Rules of Play, if only so they can break them.

Rules of Play is exhaustively researched, written in a style particularly suited to students, replete with summaries, example commissioned games with notes, and suggested further reading. However the book so thoroughly covers the formal elements of games it is also an essential reference for all researchers and designers in the field.

http://mitpress.mit.edu/catalog/item/default.asp?ttype=2&tid=9802

theory: Juul's 'Half-real' hits the shelves.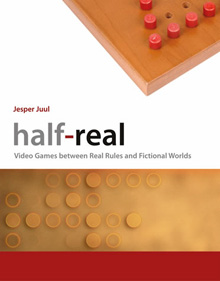 Jesper Juul is widely known as a strong and original voice in the emerging field of videogame theory; unlike many of his peers, Juul's writing exhibits an immediate understanding of the game development process, an understanding that pervades as a pragmatic and structural sense in his writings.

For this restless reader it's refreshing to come across theory immediately applicable to the design process... Half-Real is in the mail.
theory: The Art of Computer Game Design


Author: Chris Crawford
Year: 1982
Available online in html here http://www.vancouver.wsu.edu/fac/peabody/game-book/Coverpage.html and pdf here http://www.mindsim.com/MindSim/Corporate/artCGD.pdf.

This text was originally composed by computer game designer Chris Crawford in 1982. When searching for literature on the nature of gaming and its relationship to narrative in 1997, Prof. Sue Peabody learned of The Art of Computer Game Design, which was then long out of print. Prof. Peabody requested Mr. Crawford's permission to publish an electronic version of the text on the World Wide Web so that it would be available to her students and to others interested in game design.
theory: Free copies of Difficult Questions


If you don't own a copy already, PublicBeta are giving away copies of Difficult Questions and getting ready for future submissions. Its a good read if only for the quotable quotes.
http://www.publicbeta.org/xoops/
thx christo

There isn't content right now for this block.