archive: Play! A Live Video Games Symphony
Posted on Wednesday, September 19 @ 14:33:24 CEST by rebecca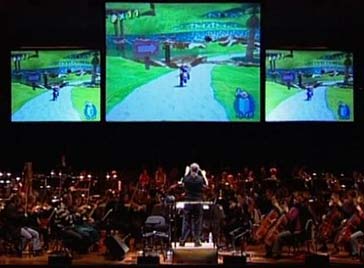 Sydney Symphony Orchestra paid tribute earlier this year to the creative force behind early video game soundtracks.


Play! was a video game symphony that brought to life the award-winning music of 20 of the biggest and best computer games around. Music from the games was performed by the Sydney Symphony Orchestra (conducted by Arnie Roth and backed by choral sensation Cantillation) while massive screens, suspended over the orchestra, captured stunning game play sequences. Play! ran from 19-23 June and was exclusive to the Sydney Opera House. Music was performed from games including:
Final Fantasy VI &VII
Metal Gear Solid
Halo
Castlevania
World of Warcraft
Kingdom Hearts
The Legend of Zelda
Super Mario Bros
Sonic The Hedgehog
Thanks to Marcus' Not Quite Art Show for the info and the pic.
http://www.sydneyoperahouse.com/sections/whats_on/features/play/index.asp