hello: Darkgame: 2P Sensory Deprivation Skirmish.
Posted on Tuesday, April 17 @ 20:43:19 CEST by julian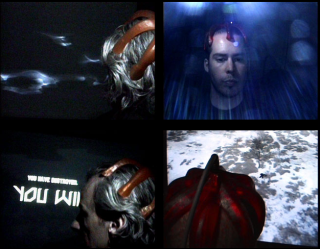 Eddo writes to tell us he's posted a couple of videos on the Darkgame development page that document playing the current version of his project. The videos were shot at Gameworld where I also played it.

Naturally the experience - of navigating in a 3D environment using a force-feedback-hat as your 'sight' while experiencing momentary blackout - is a tad difficult to convey in video form. Nonetheless, this does well to get the play model and mood across.

Enjoy!