archive: Roy Block
Posted on Monday, April 16 @ 10:29:34 CEST by rebecca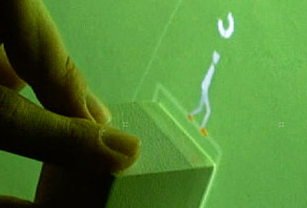 Roy Block is a cute game interface experiment by

Sebastian Schmieg

where the player controls wooden blocks as real physical platforms for an onscreen character to navigate.

Nicely packaged documentation video on you tube here.

I especially like the way the user is physically engaged with the character through both physical proximity to the screen, and through the dependency the character has on your provision of the character's physical world rather than by god-authoring it's motivations. These aspects of physical intimacy look like they would result in a strong emotional empathy with the game's character.