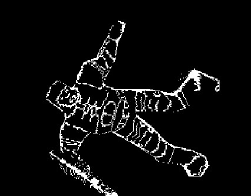 One for the archive; RELOAD was an exhibition of artistic game modding in 1999 at Berlin's shift e.v gallery (which closed it's doors in 2001). A short english description available of the three works describes the show thus:

"Stefan Wieland confronts the visitors with a walkover installation in real space, then, passing by (real) models of game architecture by Astrid Herrman, one gets to the new virtual environments for the computer game "Quake" created by Tom Ehninger, Holger Friese, Christine Meierhofer and NoRoomGallery.
In the exhibition space a setup of 4 computers, connected via local network, allows the audience to experience a walk through those levels created by the artists. Other players can join in via the Internet. On the RELOAD Game server the virtual artworks are ready for download - a maximum of 16 players can log in at the same time, visit and play the Quake levels around the clock."

http://www.shift-ev.de/anfang.html

Backup pdf of the exhibition's main page.