hello: LAMP - Story Of The Future Residential Lab
Posted on Monday, March 19 @ 01:48:45 CET by rebecca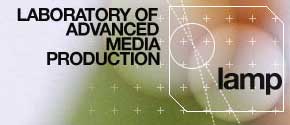 AFTRS and The Literature Board of the Australia Council for the Arts invite applications for the LAMP: Story of the Future Residential Lab. We welcome project submissions from writers, collaborative project teams and all areas of the media industry.

The LAMP: Story of the Future Residential Lab is a unique opportunity to evolve your project for broadband, mobile devices, advanced television, games consoles, multi user virtual environments and beyond. It is an intensive lab where teams and mentors work together for 5 days to produce a new media service and present it to industry VIP visitors on the final day.

The lab will take place from 20-26 May 2007 at Freycinet Lodge in Tasmania. The closing date for receipt of applications is April 5, 2007.

For further details of the lab, selection criteria and an application form visit www.lamp.edu.au/apply. All applicants are also encouraged to read about previous successful projects on the LAMP website.