archive: Consumer Grade Augmented Reality
Posted on Tuesday, August 17 @ 06:53:26 CEST by julian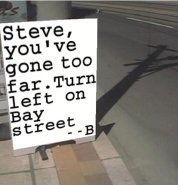 AR is a rarified technology, guarded in the crypts of academic research. While several groups have sought to remove the mantle and put AR on the street, much of the medium is still reliant on those silly goggles and half a CRAY computer in the backpack. The people at headmap seek to change that by making consumer grade glasses, with dependent processing in a jacket or backpack. Still, i'm not convinced this is going far enough. AR guru Ignacio Mondine and I were talking about this a few months ago; throwing around the possibilities for using a mobile phone in camera capture mode as a 'looking glass' for a composited layer of 3D content. Ideally the content would be positioned with GPS, or better, using an existing urban mesh-network within a 'live play' or ubiquitous gaming context. Finally someone's cracked it and the possibilites for Pervasive Gaming this opens up are enormous..



Certainly it's at an early stage, but the kids at the University of Weimar in Germany have made some real headway using consumer grade mobile phones as the interface to the overlay.

The particular branch of Augmented Reality that's interested in compositing a layer of 3D content over a real world captured scene usually works with image-recognition. So far this has only been possible using expensive Head Mounted hardware and a processor intensive application layer.
The software 'eye' is trained to recognise a unique (usually) black and white image on a card in the real world onto which the 3D model is fixed. From there the carrier of the capture device can 'move around' the opaque model in the realworld and it thus appears to be a part of the scene.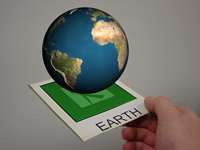 Possibly the most widely used toolkit for exploring this is ARtoolkit - it's opensource and fairly cross-platform.

But back to the AR enabled phone.. With the urban landscape already a playing field, in just a few years time we might have a ubiqutous technology allowing us to swim in and out of composited data topographies, as information and game rich dimensions. Will this technology offer us a platform for re-mythologising everyday life? I think so. A seamless and pervasive medium in what is otherwise a condensed and patrolled urban field of thresholds and etiquettes.

What would the Situationists have done with this technology? Is the derive already enough? One thing is sure, public domain AR will have a great influence over the way we navigate, deploy and engage with information. In this way it can't help being anything other than a psychogeographical medium.

Other Links:

Eyetap
Hitlab New Zealand
ARToolkit explained
Locative