archive: Demor - A Location Based Audio Shooter
Posted on Friday, July 21 @ 07:24:42 CEST by rebecca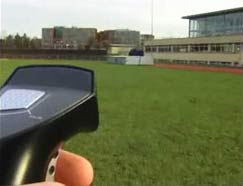 Demor is a location based audio shooter developed for blind children.

Played in an open field, players explore a virtual soundscape as they use audio cues to locate and shoot monsters.

The virtual soundscape is divided into 4 zones of occupied territory including a swamp, empty wasteland and transport and industrial areas. Each zone has a different soundtrack, sound effects and enemies. Players use audio to orientate themselves and determine the proximity and direction of monsters. Once all the monsters are killed, the soundscape updates indicating a clear zone.

Players wear a backpack with a laptop and GPS receiver to establish their physical location, and a modified joystick to fire. A head mounted tracker indicates which direction the player is facing.

Designed to entertain and "improve the emancipation of the blind and visually impaired and their integration in the 'sighted' world," the game is commissioned by Bartimeus Institute for the Blind and designed by EMMA students of the Utrecht School of the Arts (The Netherlands).