archive: Breaking And Entering: Art And The Video Game
Posted on Saturday, June 24 @ 00:00:00 CEST by rebecca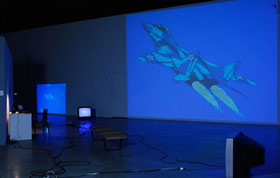 Breaking and Entering: Art and the Video Game was a group show featuring installations by Cory Arcangel, Brody Condon, Jon Haddock, JODI, Paper Rad, RSG and Eddo Stern, held between December 10, 2005 — January 28, 2006 at Pace Gallery Boston, USA. Curated by Patricia Hughes.




From the site: "Included in the exhibition will be a new multi-channel installation by Cory Arcangel as well as Bomb Iraq, a found game piece that marks a departure in his work. JODI, true innovators of the medium, will present a life-size quad screen installation celebrating the chaos and beauty of play as process. Brody Condon's ethereal projection traps multiple figures of Elvis in a pink-hued death dance and Eddo Stern's Deathstar, a narrative contrived of internet games in which various acts of violence are committed against Osama bin Laden, offers a haunting display of the violent underpinnings of nationalism. The entire series of Jon Haddock's seminal Screenshots will be on display as will a new work by RSG, mapping the player's impossible path through the terrain of World of Warfare. An installation by the collective Paper Rad, peopled with characters grabbed from sprite sheets, will allow viewers entry into a free-standing funhouse wallpapered with moving images and posters."