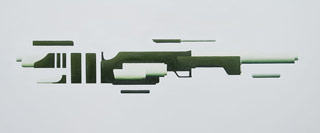 Weapons Of Choice is a beautiful series of paintings by Australian artist Mark McCarthy, whose work is influenced by the imagery of computer games. This series is his most mature to date, with a refined approach to abstraction not seen in his earlier works; for example the pixellated pop-collage installation
The Opponent
.
Weapons Of Choice
provides some of the most abstract interpretations of 3D gaming sculptural forms I've seen. Geometric basics appear suspended on a gravity-free sterile plane. Cold green shadows vie with warm yellow highlights for the dominant emotional field. Moments of textural richness offset vector-clean surfaces and these resonating contrasts are further punctuated by the matt-arcrylic and oil-gloss polish.
An intriguing yet uncomfortable beauty lies between these dualities. It is a similar discord to the phenomenology of deconstructed polys. These foundational blocks of a fabricless universe suggest the processes of functional construction found in the analogue world. Stripped bare, reduced to constituent components these vacuous facets reveal the underlying nature of virtuality's fatuous void.
Mark has generously provided us with permission to host photos of these beautiful paintings.