archive: The Endless Forest
Posted on Thursday, June 15 @ 00:00:00 CEST by rebecca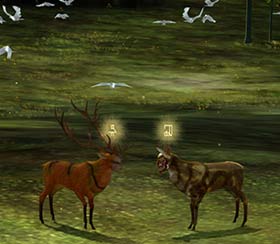 The Endless Forest is a beautiful online game-space by Tale of Tales (

Auriea Harvey & Michaël Samyn)

in which players take on the form of a deer roaming in an endless forest.

There are no challenges or point scoring, the focus is primarily on the aesthetic potential of online spaces. Basic physical deer actions like running and picking up flowers can be performed, and a range of emotional expressions are also available. The forest also allows the performance of magical interactions like worship, soul conversion and shape shifting. The Endless Forest is a non-commercial project realised by arts funding.

http://www.tale-of-tales.com/TheEndlessForest/


The Endless Forest runs on Windows as a screensaver. Julian wasn't able to get it running in WINE but if you have success let us know how.