archive: Pac Mondrian
Posted on Friday, June 09 @ 00:00:00 CEST by rebecca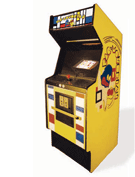 Pac Mondrian by the Toronto collective Prize Budget for Boys, 2004



Pac-Mondrian closes the perceptual distance between fine art and video games by combining Piet Mondrian's modernist masterpiece 'Broadway Boogie Woogie' with Toru Iwatani's classic video game Pac-Man. The two additional Ms. Pac-Mondrian levels - Detroit Techno and Toronto Techno return the painting to the dance clubs that inspired it with music by contemporary techno musicians mapping the birth of electronic music in their home towns. The Pac-Mondrian games can be played online.