archive: Game On
Posted on Thursday, May 11 @ 01:31:24 CEST by rebecca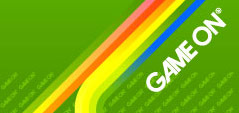 Game On was the first major UK exhibition to explore the vibrant history and culture of video games. Held at the Barbican in 2002, and toured across Europe, Game On focused on key developments between 1962 and 2002, it was an in-depth look at gaming's fascinating past and limitless future.

http://www.gameonweb.co.uk/

The show included game related art commissions, a book documenting the show, and the website has a small interactive game which stylistically reflects the aesthetic history of games as you progress through each level.




GAME ON – DIGITAL ART COMMISSIONS

To complement Game On, a series of digital-art commissions, including new works, by leading contemporary artists, will also be on display throughout the exhibition. All the works are produced in response to computer games and provide an examination of some of the issues and themes that underlie this cultural phenomenon.

Tony Ward
Alien Invasion: The New Wave

Tony Ward's work has always challenged the notion of race, gender and sexuality. Although his work is highly charged with political implications, his intent is not political correctness as such, but rather to raise awareness by reflecting on his observations and experience of society.

Finding inspiration from retro games such as Space Invaders and Pong, this piece aims to provide a basis and perspective from which to begin to tackle the complex issue of identity in multi-cultural Britain. It explores the various levels of mutual xenophobia and bigotry. Compiling a satirical cast of characters of various nationalities, the player is confronted by name-calling and role-playing. In playing the game the computer alter ego moves one step closer to transcending the cultural and social stereotype cast of our generation.

Nina Pope and Karen Guthrie
Homemade Heroes

Nina Pope and Karen Guthrie have invited dressmakers from around the world to interpret text descriptions of selected game characters, given without their famous titles, and make life-size costumes based on these interpretations. The results presents a range of diverse interpretations of the often heroic characteristics of game characters.

The artists have worked collaboratively since 1995. During 2001 and 02 they generated and curated TV swansong, a major public art & web-casting project involving 8 new commissions reflecting on television. Past commissions include /broadcast/ for Tate Modern, and An Artists Impression for the Cap Gemini Award at the I.C.A, London.

Ping

Ping invents an alternative history for video games, a sort daydream from the artists' childhood about what games might have become.

"In the arcades where I grew up, watching the big boys playing Defender or Pacman with trance like cool, it was the flow, rhythm, tactility and social space created by the games that would draw you in, not the stories or images. Games were always a musical thing, a dance, a conversation, a performance. The games of the seventies and eighties seemed to be the first seeds of something that could be important and wonderful and I used to imagine that one day we would make games that were as powerful and perfect as music. Maybe we will."

Mark Dean
Insert Coin (Nico)

Insert Coin (Nico) takes the elements of an aerial shoot-em-up arcade game, and reconfigures them in the form of a video art installation. The game's computer-generated combat scenario is replaced by actual war footage, recorded by camera guns fitted in fighter aircraft.

The player's joystick is replaced by the viewer's critical faculties, which may reflect upon their relationship to the endless spectacle of destruction on screen.

Thomson and Craighead
Triggerhappy.

Triggerhappy is a simple re-working of the classic arcade game, Space Invaders. Rather than defending against wave after wave of aliens, players must shoot up a series of text extracts taken from the philosopher Michel Foucault's essay, 'What is the Author?' The game has nine levels each with their own soundtrack taken from anonymous shortwave radio broadcasts sometimes referred to as, Numbers Stations.

Triggerhappy was commissioned by the Arts Council of England, 1998.

Ocean Quigley

Ocean Quigley is one of the key Maxis designers for SimCity 3000 and Simsville. He is also a painter. This selection of works compares Quigley's digital art with his oil painting. The works illustrate how his aesthetic approach in one medium influences the other, demonstrating the sense of play and space and how some of the iconography of computer generated imagery returns to inform the paintings.

b consultants
Masterplanners of the Universe.

Games such as Sim City and Quake have taken the gaming experience close to architectural spaces and masterplanning in many ways. It has been inevitable perhaps that the systems become adapted for real life projects.

Over the last three years, b consultants have developed a 3D games technology using the QuakeIII engine for masterplanning and architectural design. This work demonstrates an interactive model that has been developed for imagining architectural interventions in a vibrant city context.

This rich, immersive environment is based on cutting edge projects and incorporates sound, collage and movement to create a real sense of place. The model mixes found objects with imagined places and is used to test first ideas through to completed design proposals. In the future, whole neighbourhoods could be designed and manipulated in these systems.

We can now contemplate what it is like to be empowered to experience architecture as it is designed and before it is built.

Scanner in association with Friendchip
Friendscan

This is the first commissioned collaborative work by sound artists Scanner and digital graphic artists Friendchip.

Inspired by a handheld computer game from the early 1970s, Simon, this interactive work playfully uses sound and image in unison. Simon was one of the first games to incorporate music as a key element, where you would have to remember and follow an ever accelerating pattern of tones and coloured lights.

Here the game remembers your body movements for you. Your route across the grid is recorded and combined with the movements of previous visitors to create sound and images.

Scanner's divers body of work twists technology in unconventional ways creating soundtracks for film, radio and site specific intermedia installations. Friendchip make web sites with sound and images.

James Gooding
Players

James Gooding's photographic work, Players is part of an on-going project which aims to represent the broad demographic of video game players around the country, partly to challenge preconceived ideas surrounding 'gamers.' Players aims to give a face and a voice to this mass culture

Chu
Graffiti Installation

Names, games, walls and music are the vital ingredients which initially attracted and continue to fuel Chu's highly original visual style. For the last twenty years, Chu has created 3-D works which draw on his knowledge of video games, immersive environments and digital media. Chu's graffiti aims to capture the spirit and energy of these influences, fusing them into his unique visual forms.

Chu's Your Weapon www.schudio.co.uk

Carbon Lodge commission
Block Mania is a series of highly captivating images of game play. The projection itself travels through the innocence of early games like Pac Man, Mario, Invaders to the gritty and often violent reality of more recent productions like GTA 3 and Resident Evil. Its finale takes the topic of transformation and revelation as its theme, looking with pleasure and optimism to the future dimensions gaming will open for all of us.