archive: Cloud - Featured Art Game
Posted on Sunday, January 15 @ 09:01:30 CET by rebecca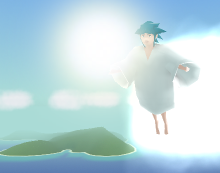 Download



Happy Lunar New Year everyone! To celebrate, we've finally featured a new art game: Cloud. Fly with the clouds and befriend them as you create sculptures in the sky. Gorgeous matt paintings contextualise the game with poetic, cinematic instructions. Some really nice physics are at play with the cloud interactions, and the instruction booklet is worth a look for its interesting reliance on diagrams.

Cloud is a student created work was funded by the Division of Interactive Media at the University of Southern California School of Cinema and Television.

http://intihuatani.usc.edu/cloud/

Free, running natively in Windows. Installation instructions for Wine on Linux here thanks to julian.

Cloud was never made to play on Linux, but as with many Windows applications, they work fine with WINE.

Install the game with:
$ wine /path/to/CloudInstall.exe

To play the game you'll need to change into the directory with the exe in it or else it may not find the file 'Bios.txt':

$ cd ~/.wine/fake_windows/Program Files/Cloud/bin/
$ wine Cloud.exe

That's it!