archive: 'The White Room' - John Paul Bichard
Posted on Tuesday, November 02 @ 15:17:06 CET by julian

Anonymous writes "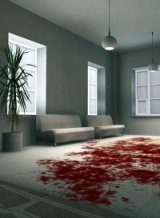 John Paul Bichard's recent artwork: The White Room, is a set of photographic prints resulting from an in-game photo shoot that documents a series of constructed disasters. These interiors were set up by the artist using the videogame Max Payne 2, a 'Film Noir' thriller that tells a tale of lost love, deception and betrayal.

The shoot took place within the game's developer mode using the GOD and GETALLWEAPONS cheats and BenDMan'S 'bloody mod 1.2'. By transforming the game environment into a ready-made urban studio space, the objects and interiors were altered using the in-game weapons with the gore from dead enemies being used to 'paint' the sets before being unceremoniously blasted out of view and the scene captured.

The events implied never happened in the game, they are not representations of 'real-life' crimes nor are they illustrations of fictional crime stories. These are silent witnesses, containers demanding context, they are waiting places.

Bichard's work explores the relationship between environment, narrative and (game) play through a variety of media, including video games, installation and photography. The work plays with the boundary between the 'protected real' space such as the police evidence space and the 'digital made real', where the games space is (re)constructed in a 'real' environment. Through the use of online video games, their tropes and assets, these works subvert the player/viewers expectations and assumptions of the space they are engaging with. Photo works and multiples include collage narratives, artists books and multiples to further explore relationships between physical and fabricated space, narrative and notions of authenticity.
Visit the artist's site here.

"