archive: New entry - Eastwood Group's 'Civilization IV'
Posted on Friday, October 01 @ 00:14:17 CEST by julian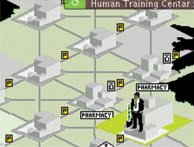 The Eastwood Group have created a unique project in the RTS format, one that takes an ironic turn on the geographical preoccupations of the genre's founder, Civilization.

Instead of building power stations and routing traffic, Civilization IV configures the player as an agent within the networked flows of corporate power.

At the outset, the player chooses not alignment, but employment with mega corps like IBM, Apple, Microsoft, Intel etc, and operates at an executive level within the seedy arenas of corporate interest. The game itself is a full featured real time strategy game for Wintel (which is a little hypocritical given the message), but is free for download at 241Mb.

Deleuze would've toasted to it I'm sure.

Updated: 19 November 2006


Says the Eastwood Group:

Civilization IV displays functioning of today's IT Complex machine in a most transparent way, including the role of military-entertainment complex, immaterial labor, pharmaceutical industry, net. economy, business espionage, surveillance mechanisms, sex/porn industry, terrorism, governmentality, schizophrenia.

For linux users, try running it under WINE.. it worked for me, kind of..